Valentin N. Ivanovski, PhD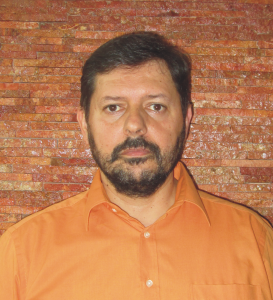 Contact:
phone:
(+381 11) 3408 138;
e-mail:
valiva@vin.bg.ac.rs
Personal informations
Date of birth: 17.01.1971.
Education/Professional training
– Ph. D in Physics, University of Belgrade 2015, Thesis title: Investigation of the structure and hyperfine interactions in the intermetallic γ'–Ni3Al phase doped with hafnium and iron.
– B Sc./M Sc. in Physics, University of Belgrade 2007/2008, Thesis title: Assessment of absolute efficiency in γ–spectroscopy measurement of natural radioactivity.
– Professional training at Institute of Physics of Material, Czech Academy of Science, v.v.i. Brno, Czech Republic.
Research interest
Hyperfine interactions and local probes in condensed matter physics, correlated electron physics, iron superconductors, magnetic materials. Perturbed Angular Correlations spectroscopy in the investigation of intermetallic phases. Electronic structure calculations (LAPW, pseudopotentials) of semiconductors, metals, and intermetallics. Computer codes: WIEN2k – LAPW formalism, and VASP.
1. V. N. Ivanovski, B. Cekić, A. Umićević, T. Barudžija, G. Schumacher, I. Madarević, and V. Koteski, Journal of Alloys and Compounds 622 (2015) 541–5472. V. N. Ivanovski, A. Umićević, J. Belošević–Čavor, H. Lei, L. Li, B. Cekić, V. Koteski, and C. Petrovic, Journal of Alloys and Compounds, 651 (2015) 705–711
3. Z. Ž. Lazarević, A. N. Milutinović, Č. D. Jovalekić, V. N. Ivanovski, N. Daneu, I. Madarević, and N. Ž. Romčević, Materials Research Bulletin 63 (2015) 239–247
4. A. Wang, L. Wu, V. N. Ivanovski, J. B. Warren, J. Tian, Y. Zhu, and C. Petrovic, Phys. Rev. B, 94 (2016) 094506
5. V. Koteski, V. N. Ivanovski, A. Umićević, J. Belošević-Čavor, D. Toprek, and H.-E. Mahnke, Journal of Magnetism and Magnetic Materials 441 (2017) 769–775
6. Y. Liu, V. N. Ivanovski, and C. Petrovic, Phys. Rev. B, 96 (2017) 144429
7. V. Koteski, J. Belošević-Čavor, A. Umićević, V. Ivanovski, and D. Toprek, Applied Surface Science 425 (2017) 1095–1100
8. J. Belošević-Čavor, V. Koteski, A. Umićević, and V. Ivanovski, Computational Materials Science 151 (2018) 328–337
9. M. Karanac, M. Dolić, Z. Veličković, A. Kapidžić, V. Ivanovski, M. Mitrić, and A. Marinković, Journal of Environmental Management 224 (2018) 263–276
10. D. Jugović, M. Mitrić, M. Milović, V. N. Ivanovski, S. Škapin, B. Dojčinović, and D. Uskoković, Journal of Alloys and Compounds 786 (2019) 912–919
11. J. Tian, V. N. Ivanovski, D. Szalda, H. Lei, A. Wang, Y. Liu, W. Zhang, V. Koteski, and C. Petrovic, Inorganic Chemistry 58(5) (2019) 3107–3114
12. Z. Ž. Lazarević, G. Križan, J. Križan, A. Milutinović, V. N. Ivanovski, M. Mitrić, M. Gilić, A. Umićević, I. Kuryliszyn-Kudelska, and N. Ž. Romčević, Journal of Applied Physics 126(8) (2019) 085109
13. V. N. Ivanovski, J. Belošević-Čavor, V Rajić, A. Umićević, S. Marković, V. Kusigerski, M. Mitrić, and V. Koteski, Journal of Applied Physics 126(12) (2019) 125703
14. V. Koteski, J. Belošević-Čavor, V. Ivanovski, A. Umićević, and D. Toprek, Applied Surface Science 515 (2020) 146036
15. S. Ilić, V. N. Ivanovski, Ž. Radovanović, A. Egelja, M. Kokunešoski, A. Šaponjić, and B. Matović, Materials Science and Engineering: B 256 (2020) 114543